B&G Equipment Company - Baiting
Perimeter Patrol Baiting System
​

Monitors for subterranean termites add value to the service and can improve customer retention. The B&G Termite Monitor has a sturdy plastic top and tapered wood stake to make them easy to install and inspect. The typical residential site can benefit from 10 or more monitors. The top of the B&G Monitor can be imprinted with a company logo for added recognition and retention. The 8 inch soil stake can intercept termites foraging close to or well-below the soil surface. The cardboard in the chamber at the top of the stake provide a food source for termites that contact the stake. The plastic top easily opens for inspection and snaps closed for security.
​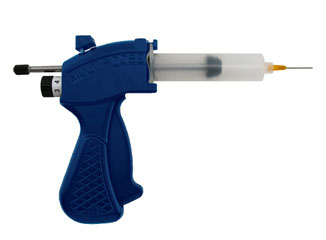 Baits are often combined with liquid spray applications for many household pests, such as cockroaches and ants. Bait application precision is important because of product costs and non-target exposure. The B&G Bait Gun is the best choice for accurate placement of gel baits. The amount of bait dispensed can be adjusted by use of the dial on the rear of the gun. The B&G Bait Gun can be calibrated to deliver all commercial bait placements, based on size (diameter) or weight (grams). The gun is designed to deliver a consistent amount of bait with each pull of the trigger—there are no partial pulls or partial delivery. The ergonomic design reduces fatigue during limited or extensive use.
Copyright 2010-2017. Syarikat Perniagaan M.S. (Malaysia) Sdn. Bhd. (57718-M) All Rights Reserved.