Bird Repellent Gel
​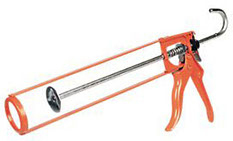 Bird repellent gel works through its sticky nature, not by burning or irritation. As birds go to step out of the Gel they experience the feeling that their foot is stuck. This feeling is disliked and the message is quickly communicated to other members of the flock which quickly abandon the treated surface. To achieve this function it is essential that the correct bead depth be applied and maintained on the surface where birds are roosting. This bead depth is achieved by cutting the cartridge nozzle in the appropriate place relative to the size of the bird.
​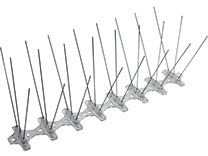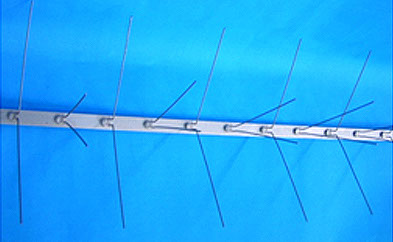 Steel Bird Spikes Prevent Birds from Landing, Eliminate Roosting on Surfaces
100% effective
Deter birds from roosting on any surface, permanently
Heavy duty stainless steel prongs plus long-life polycarbonate base offers an affordable, effective solution
Flexibility allows mounting on flat or curved surfaces
Easy to install with adhesive, nails, screws, wire ties, etc.
Two-foot sections "snap to the inch" to minimize waste
Outrigger base stabilizers make installation an easy one-person job
Bird Coil: Spiral Coils
​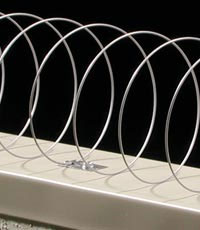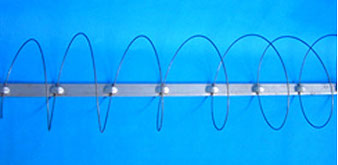 Bird-Coil can be attached to any substrate using adhesive and special coil clips. Install one clip per foot with the appropriate screw and clip it in place. It is fast, easy and very secure. Ideal for rooftop perimeters and building ledges, the four-inch stainless steel bird coil expands to 25 foot length. Bird-Coil's smooth curves are completely harmless to both birds and unsuspecting workers needing access to ledges.
NO-BIRD NET, US794S
​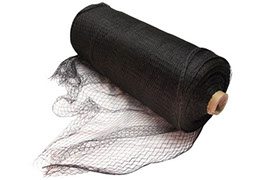 No-Bird Net is manufactured using the most advanced technology in the world, and has been developed to withstand a wide range of environmental
conditions. Polyethylene is the most ultra-violet resistant netting material available and No-Bird Net has extra U.V. stabilizers added in its raw materials,
creating a durable, long-lasting net.
100% effective against all bird species
Highly resistant to ultraviolet rays
Flame-resistant
Will not rot or absorb water
Protecting structures worldwide
Specified on historical properties
Mesh sizes: 1cm x 1cm
Color: dark green
Warranty: 5 years
StealthNet / Bird Net
​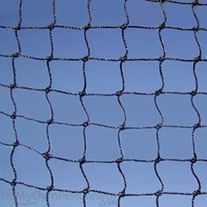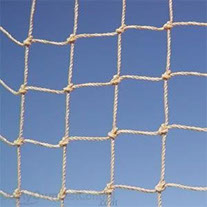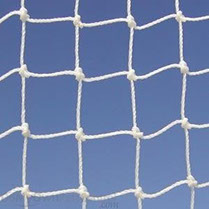 StealthNet is a sensible, strong, long-lasting, hassle-free solution to any bird problem
100% effective
Nearly invisible bird netting
Permanent solution keeps birds out once and for all
Lightweight, pliable, maintenance-free material
Multi-purpose mesh size = 3/4"
Also available in 1 1/8", 2" & 4" mesh size (hole gauge) for specialty applications
Colors: Black, Stone & White
Prevent bird infestation in facilities & all types of structures. Prevent depredation of vineyards, orchards, and other crops: enclosures covered by bird netting allow light and moisture in. Useful for any situation where birds need to be excluded from an area.
Bird Netting Accessories and Tools
​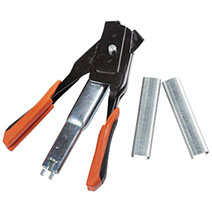 Hog Ring Pliers
​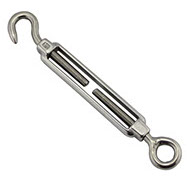 Stainless Steel Turnbuckles
​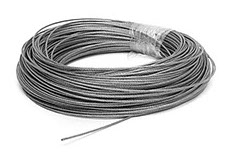 Stainless Steel Net Cable
​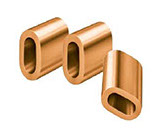 Cooper Ferrules
​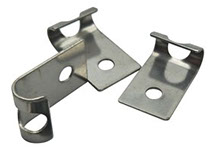 Stainless Steel Net Cable Bracket
Bird Stop Liquid Bird Repellent
​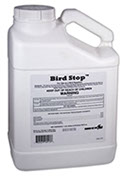 Don't let stubborn hungry birds destroy your crops, property or your income! Protect the visual appeal of your property with Bird Stop liquid bird control solution. Damage can happen overnight – don't lose money! Bird Stop is a biodegradable food-grade bird repellent. This liquid taste aversion agent has an active ingredient called Methyl Anthranilate which is derived from the smelly part of concord grapes. The taste and smell are unappealing to birds thus rendering food sources unpalatable and inedible to birds. Bird's leave treated areas for better food sources thus saving your crops, property and pocketbook!
​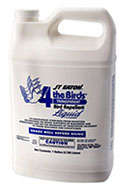 4 The Birds Liquid is a sticky liquid repellent used to deter pigeons and starlings from landing on interior surfaces and outside vegetation. Although opaque white when applied, it sets up as a colorless film. It can be sprayed or painted on to various surfaces providing broad coverage.
Use on trees, shrubs, vines, beams, & more
Apply with a power washer, hand washer, or a paintbrush
Non-toxic, sticky liquid makes surfaces sticky & uncomfortable to birds
Fog Force: Bird Repellent Aerosol
​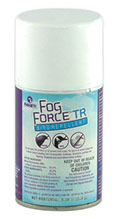 This is a ready-to-use aerosol can with the same power as Fog Force, but inserted in a time-release dispenser. Use this for temporary applications
on migrating birds, smaller areas or inside protected spaces. The time-release will last an average of 2880 bursts, your usage will vary depending on the settings.
Avian Bird Repellent Liquid
​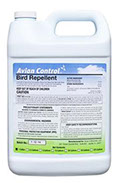 Avian Control is a liquid bird repellent that will chase your birds away. Avian Control uses cutting edge technology to efficiently repel undesirable birds without harming the birds, humans or other animals (including household pets). Avian Control for use on numerous crops to prevent damage from foraging birds. The repellent is effective against many types of nuisance birds including geese, pigeons, starlings and grackles. All of the ingredients in Avian Control are food grade. Avian Control can be either fogged or sprayed and is compatible with both types of equipment for ease of application. It is designed for effective use – less often, in less quantity and to better effect. In outdoor applications, Avian Control has a life expectancy of up to two weeks, but the results last much longer because birds "learn" to avoid areas treated with Avian Control. While non-lethal to birds, it acts as an irritant discouraging birds from amassing. The dual application methods (fogging or spraying) are ideal for airplane hangars, grassy fields, golf courses or large properties.
Bird Shock Track
​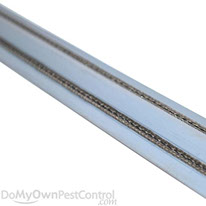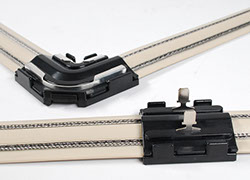 Shock Track has a high voltage, low ampere intermittent pulse that is sent through stainless steel strip conductors giving the pest birds a mild yet effective jolt designed to condition birds not to return. Birds are not harmed by the shock, but instead, will no longer land, roost or nest where the strip is located. Installation is a fairly simple process that does not involve extensive training. Simply lay the track in the desired location, adhere it to the structure with adhesive or screws then attach the junction block, lead wire and shock box. Turn on these power and watch the birds jump. This low-profile electrified track conforms to any architectural configuration. Shock Track curves up and down, and side to side and the stainless steel braid gently follows the UV-stabilized PVC base without wrinkling.
Electronic bird repellent devices produce extremely effective audio and visual threats that frighten, irritate, and disorient birds, forcing them to seek calmer, untreated areas. These devices condition pest birds to stay away from treated areas for good. Bird-X offers the most unique line of electronic bird repellents in the industry. Our electronic bird repellers provide effective, cost-effective, humane bird control solutions. Coverage is offered for both small and large areas alike, while only requiring minimal installation and effort.
Electronic bird control devices are easy to install and start repelling pest birds instantly. For fast results and minimal labor, electronic bird control is an excellent choice
Electronic bird repellents cover areas where use of physical barriers or visual scares may not be ideal. Sometimes sonic/ultrasonic broadcasts and repellent lasers are only needed during certain times of the day. Electronic bird control units are easily programmable to run on a specific schedule so that birds are unable to acclimate within covered areas
Electronic bird repellers are long-lasting and require little to no maintenance. Simply install and switch on the product for effective results that can last for years with proper use
Electronic bird control is humane and eco-friendly! No mess, no chemicals, no traps! Bird-X electronic units can also be paired with a solar panel—ideal for remote areas with power limitations or to reduce energy consumption.
Irri-Tape
​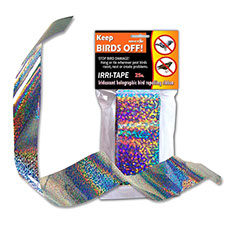 Holographic bird tape flashes blinding light & makes noise when it flaps in the wind. Irri-Tape is a multi-sensory attack scares birds away from the treated area. Also known as Flash Tape, Foil Tape, Bird Tape, Repeller Ribbon, Mirror Tape, Reflective Tape, Mylar Tape, Holographic Tape, & many others, this product has been used for years.
Sunlight reflects off the material, disorienting & irritating pest birds
Sharp, metallic clacking sounds are made when tape flaps in the wind
Easy to install, very simple & effective solution
Bird tape is often used in farms, vineyards & other agricultural applications.
Drive through Napa Valley during harvest season and you will see Irri-Tape holographic tape flapping in the wind, protecting rows of grapes at almost every vineyard.
Holographic, iridescent foil
Visual scare – birds are scared of the material's sheen, as the light causes constantly changing reflections
Sound scare – birds are rattled by the fierce metallic noise as it blows in the breeze
Physical deterrent – birds are blocked by the tape and its brackets on any surface
Can be used alone or in combination with a sound device or a taste aversion
Includes metal mounting brackets
Irri-Tape uses metallic diffraction foil – while ideal for all freshwater applications, avoid use on or near saltwater.
Giant Terror Eyes
​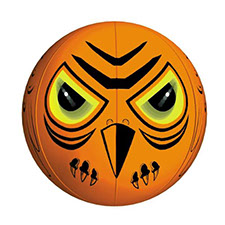 Holographic eyes create the illusion of a predator following pest birds to attack, while moving organically with the wind.
Bright colors and fierce features mimic natural predators
Requires little to no maintenance
Predator decoy; 3D balloon
Weatherproof, vinyl, inflatable balloon
Markings exaggerate the glaring stare & gaping mouth of natural predators
Holographic material creates the illusion that the eyes are following pest birds
Wind causes the inflatable Terror Eyes to move in the wind, increasing efficacy
Easy installation
Scare-Eye Balloons
​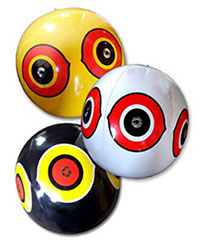 Keep birds away with these simple vinyl ball visual deterrents that move with the wind and intimidate pest birds within visible range.
Includes three balloons – white, yellow, and black
Easy to use, cost-effective solution – install anywhere
Balloons move in the wind, birds flee!'
Predator decoy; 3D balloons
Three balloons included: one (1) white, one (1) black, and one (1) yellow
Includes mylar eyes, mylar tails, and strings for each balloon
Weatherproof, vinyl, inflatable balloon
Design exaggerates the glaring stare and gaping mouth of natural predators
Wind causes the Scare-Eye Balloons to move in the wind, increasing efficacy
Easy installation
PVC Strip Blinds / Vertical Curtains
​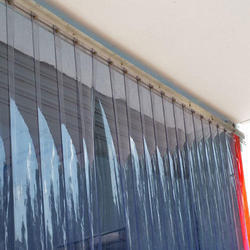 Block birds enter the premise with these simple PVC Strip Blinds.
Effective noise cancellation when used around heavy machinery area.
Controls the humidity and maintains uniform temperature in area.
Effective in blocking insects and bird problem
Easy to maintain. Just use liquid detergent and water to wash the strips on occasional basis.