B&G Equipment Company - Fly Light Trap
​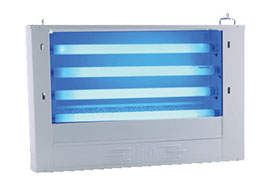 This trap (21 x 14 x 5 in.) has 100 watt capacity (four 25 Watt bulbs) for maximum attraction where fly infestation is heavy. For light infestations the 1-bulb or 2-bulb configuration can be used. This unit has an electronic ballast, 2 large glue boards (one behind the bulbs, one below), and built-in hooks for hanging from the ceiling and increasing attraction from all angles. Trap colors are black or white, and shatterproof bulbs are available.
Copyright 2010-2017. Syarikat Perniagaan M.S. (Malaysia) Sdn. Bhd. (57718-M) All Rights Reserved.