​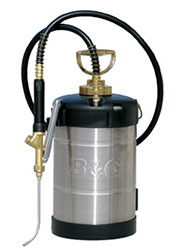 This efficient foamer is based on a standard B&G 1 gal. tank, and it is pressurized by hand. The XR-Value provides precision control of the foam delivery, and the 6 in. curved tip is designed for treating voids behind walls and cabinets. This system is easy to use, there are not adjustment to make during application, and it can be carried anywhere in a commercial and residential account. There is an optional plastic drain tip that can be used to apply Microfoam EF microbial cleaner to floor drains. The Versafoamer HH is designed for years of dependable service and most replacement parts are interchangeable with the standard B&G 1 Gallon Sprayer.
​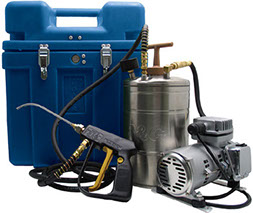 This complete foam delivery system is built around a small and quiet compressor, a 1 gallon stainless steel tank with a pressure gauge, a 7 ft. hose, a rugged valve with a curved application tip. The entire system fits into a B&G Carry Case for no spills and portability. The self-regulating compressor maintains operating pressure in the tank, and ensures consistent foam throughout the application—no adjustments are necessary. A variety of tips are available the units are supplied in either 110V and 220V. The VersaFoamer 4000 can be used in a wide variety of application from Termite or Carpenter Ant Treatments to Commercial Kitchen applications. An added feature of the VersaFoamer 4000 is that it can be removed from the electrical source for spot treatments. With the tank fully pressurized you can achieve up to 40 seconds of foam application.
​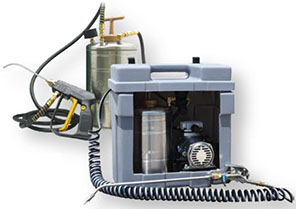 Now you can have one piece of equipment that can handle most Pest Control Applications. We have taken our VersaFoamer 4000 and combined it along with the Portable Aerosol System into one package. Saves you money over purchasing components separately. For Commercial Applications, you can use the Portable Aerosol System for general pest control, and then swap out the tank and have a power foamer, great for drain and fruit fly work. For General Applications, use the Portable Aerosol System for anything from Bed Bug Applications to crack and crevice work and then swap out the tank and now you have a power foamer, great for foaming wall voids for termite and carpenter ant control or other applications where foaming offers you advantages over conventional sprays.
​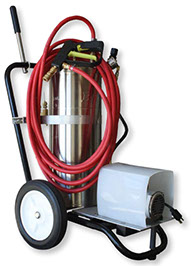 This is a heavy-duty delivery system based on a cart sprayer design. The system delivers consistent foam, as well as liquid insecticide from the same 3 gal. tank. It has a 30 or 50 ft. hose, a powerful compressor, and an adjustable pressure regulator. The foamer can be used for pre-treatments (soil and wood) at construction sites, large crawlspaces, and for power cleaning and treating dumpsters for fly control. Tank pressure can be adjusted to 80 psi to allow for power spraying framing timber or injecting liquid or foam into dimension lumber, or termite and carpenter ant galleries, and under concrete slabs for a standard or re-treatment for termites.
​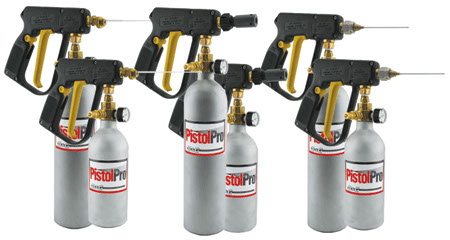 These sprayers are powerful and portable delivery systems that are designed for a variety of specialty applications, including wood-injection, foam application, and crack-and-crevice treatments. There are nine model configurations, based on the 1 pint and 1 quart aluminum bottles, a 4-way nozzle with a plastic or metal crack-and-crevice tip, forming tip, and a specialized tip for injecting foam into termite and ant galleries in wood. The primary features of each unit are the pressure gauge, and the charging valves, and the tip shut off for non-drip use indoors. A battery-operated or vehicle charging compressor is available for charging the bottles with a quick-connect adapter.