B&G Equipment Company - Foggers
​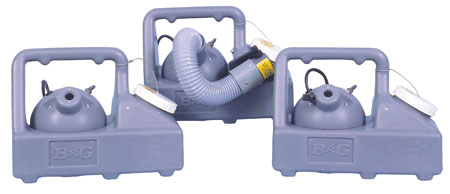 2300 My-Ti-Lite
2400 Ultra-Lite
2600 Flex-A-Lite
The heavy-duty foggers from B&G are used for flying insect control around the world. They are ideal for commercial and residential accounts because of their compact size, stability, and the 1.5 gal. capacity. The handle and tank are one-piece construction and the unit is rotation-molded for maximum strength. The droplet size available with the 2400 and 2600 models extends from a power-mist (56 micron droplets) to ULV (20-35 micron droplets). The output and droplet size of these models can be easily selected with the adjustment knob on the nozzle. The 2600 (Flex-A-Lite) has an 18 in. flexible hose for directing the spray to specific sites. Each fogger is individually built and tested for performance.
​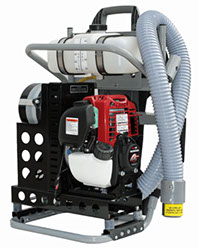 B&G Versa-Fogger is the first true Gasoline Powered Backpack Fogger. Specially designed for Pest Control, this is not a mistblower but rather a back pack fogger able to provide a wide range of flow rates and particle sizes, that are perfect for most all Pest Control Applications. This was co-developed along with our sister Company, Curtis Dynafog, who is the expert in foggers for Vector and Insect Control.
All metal frame
Honda 4 Stroke motor - No mixing oil with gas
True Compressor delivers air at high pressure
Fully Adjustable Flow Rate
Lightweight - Less than 27 lbs (dry weight)
Quiet 4 Stroke Operation
Copyright 2010-2017. Syarikat Perniagaan M.S. (Malaysia) Sdn. Bhd. (57718-M) All Rights Reserved.