​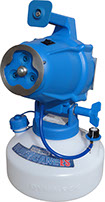 An affordable applicator, the Hurricane ES™ utilizes proven electrostatic technology to charge each droplet to provide effective application of formulations. The droplets stay separated due to the charged nature allowing uniform, even coverage on entire target surface every time.
Dispenses Water-based Products
The Hurricane ES™ is ideal for use in spraying commercial and residential areas. Hotels, schools, greenhouses, warehouses, medical facilities, sanitation, germicidal treatments and disease control programs are just a few of the markets where the Hurricane ES™ is used.
Precision flow rate and droplet control
Uniform and consistent coverage
Droplet size can be controlled for both ULV and residual spraying
Stainless Steel Metering Valve
​
The Hurricane is ideal for use in spraying industrial and residential areas. It dispenses both oil and water-based products. The Hurricane is capable of dispensing disinfectants, deodorizers, germicides and insecticides. It is being used successfully in hospitals, restaurants, warehouses, nursing homes, schools, greenhouses and other institutions. With an adjustable output of 0-5 gallons per hour, this versatile unit gives you the power to handle both large and small area, wherever aerosol particle chemical treatment is needed.
​
You don't have to look hard to see the ravaging affects that the HFMD, H1N1 and H5N1 flu virus is having on people in the Malaysia and abroad. To help to combat the pandemic, Curtis Dyna-Fog, Ltd., the world's leader in spraying and fogging devices has developed the Sanitizer ULV Mister, a highly effective hand-held sprayer. The Sanitizer is specifically designed to spray anti‐bacterial agents at a droplet size targeted to kill the living virus on surfaces before they spread to humans making it the first of its kind to be custom tailored for eradicating the live flu virus in large areas that are unpractical, if not impossible to wash or "wipe down". The Sanitizer uses the latest in spray technology providing a fast and efficient way of treating several thousand cubic feet of space in only a matter of minutes. It is ideal for treating public places like hospitals, schools, airports, buses, shopping malls and other areas where there are large groups of people and a high risk for transmitting the virus.
​

The ultra precision metering valve assures particles under 20 microns regardless of flow rate and viscosity of material. Ideal for pest control work in areas such as hospitals, nursing homes, schools, apartment buildings, restaurants, greenhouses, etc.
​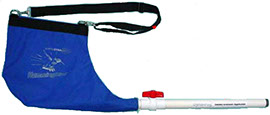 This is designed for the application of solid materials. Granules are frequently used for the application of larvacides. It also can be used as seeding equipment, and as salt spreader.
​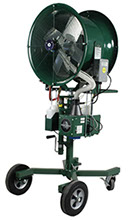 Enables automatic, unattended spraying, reduced labor costs and worker exposure to chemicals. Assures a higher efficiency of che coverage by generating uniform droplets which are evenly distr throughout the area being treated.
Treats up to 60,000 square feet (6,000 square meters) with auxiliary fans
High capacity fan with adjustable horizontal and vertical
Programmable timer with user friendly with digital display
Simple formulation system—no restrictions in chemical lines to allow blockage
High output nozzle assures rapid and efficient application
Auto flush system provides optimum performance
Formulation tank: 3 gallon (12 liter) with agitation system
Adjustable flow rate selection to meet specific needs
NIGHTSTARTM M — MOBILE
Adjustable height and large wheeled cart for maneuverability
To be able to apply insecticides as well as fungicides and disinfectants, the applicator must be able to produce the proper droplet size. The Nightstar has all you need by giving you a choice of 4 different droplet sizes.
PARTICLE SIZE:
8 MICRONS: For control of adult Insects, droplets of this size will settle from the air in about 3 hours, minimizing the possibility of pesticides being ventilated from the greenhouse.
20 MICRONS: For leaving an insecticide deposit on leaves, including the underside.
30 MICRONS: To leave a larger fungicidal deposit for Protection as the leaf grows.
50 MICRONS: Provides a "wetting effect" for activating disinfectants.