​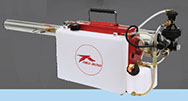 The Dyna-Fog Red Bird utilizes a new low voltage patented electric starting system and user friendly design. With heavy duty plastic tanks and an ergonomic style, the Red Bird delivers the highest performance to weight ratio of any comparable thermal fogger on the planet. Its light weight combined with the reliable Dyna-Fog stainless steel engine enable the Red Bird to provide years of service to the health control professional seeking a compact, high performance hand-held thermal fogger.
​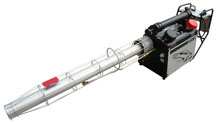 Compact, ultra-light-weight and powerful, the Superhawk product line offers yet another option for Public Health officials and other industry professionals. Powered by the same reliable Dyna-Fog® stainless steel engine, the Superhawk remains the machine of choice by Health Ministry professionals, Mosquito Control Departments, Pest Control operators and others.
Fast and easy starting every time
Huge fog output
Ultra-lightweight
Compact size
Auxiliary Start which enables the machine to start from any 12V system such as the cigarette lighter in an automobile
Metering valve which allows the control of fog without having to change the nozzle of the machine manually - as required by WHO
The Superhawk's ultra-light-weight design and ability to produce large volumes of dense fog make the Superhawk ideal for use in both local and remote areas. Built to rigid quality standards and backed by more than 65 years in the industry, the Superhawk continues to be an essential part of any program where performance, simplicity and reliability are required. Superhawk has been declaration of conformity with the performance guidelines of the World Health Organization Specification number WHO/VBC/89.973.
​

Dispenses wettable powders, emulsifiable concentrates and flowables with a non-flammable carrier at a rare of up to 12 GPH. Mister III Pro gives you easy, reliable starts. Fast, economical and total coverage. Mister III Pro has the versatility to dispense fungicides, insecticides, germicides and disinfectants such as: wettable powders, emulsifiable concentrates, flowables or liquids in a variety of applications: greenhouses, warehouses, food processing plants, swine/poultry houses and more.
Dispenses wettable powders, emulsifiable concentrates and flowables with a non-flammable carrier at a rate of up to 12 GHP
Patented electric starting system eliminates hand pumping
Corrosion resistant polyethylene formulation and gasoline tanks
Removable battery holder for easy access
3-position switch enables operator to select from a choice of battery supply for starting
Auxiliary start battery cable with full function remote control
High output 12 VDC Diaphragm Pump
​

The PATRIOT'S patented Starting System even enables use in areas where poor quality gasoline is all that is available. Designed from over 50 years experience and built to the highest quality standards, the Patriot will give superior performance with simplicity and durability.
Reliable performance
Produces large volumes of fog
Produces more fog than any machine of its size in the world and can be started from a variety of battery sources. Patented Fuel Priming System eliminates need for pressurized fuel tank. A 12 volt starting system ensures reliable starting even when battery power declines!
​

Dyna-Fog Trailblazer is designed to dispense both petroleum and water-based products easier and more efficiently than other applicators. For simple starting and operation, the Trailblazer features Dyna-Fog's patented 12 volt electric starting system to assure reliability, effectiveness, fuel efficiency and ease of operation. No pressurized gasoline tank required!
Stainless steel pulse-jet engine
Rugged chemical-resistant polyethylene formulation and fuel tanks
The Trailblazer produces a high output, non-residual thermal fog with virtually no carbon monoxide, making it ideal for applications such as: dispensing fungicides, insecticides, germicides disinfectants and odor counteractants for application in greenhouses, warehouses, factories, food processing plants, parks, campgrounds, cattlebarns, swine/poultry houses, grain mills, restaurants, hotel complexes and much more. The Trail- blazer is also used by Health Ministries throughout the world for controlling mosquitos that transmit diseases like West Nile Virus, Encephalitis, Malaria, Dengue Fever, Yellow Fever and Chagas.
​

The Blackhawk was designed for a wide range of jobs with maximum efficiency for handling petroleum based products. The Blackhawk is capable of dispersing disinfectants, deodorizers, germicides and insecticides for application in greenhouses, a wide range of warehouses and for outdoor pest control in parks, gardens and golf courses.
The Blackhawk is designed for a wide range of jobs with maximum efficiency for handling petroleum- based products
One year limited warranty