B&G Equipment Company - Rat Station
​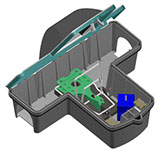 The Fast Catch is the First True IPM Rodent Station. Fast Catch can be used in IPM Programs for monitoring with non-toxic bait and then when activity is present a snap trap can be used for final control. It can also be utilized as a "stand alone" snap trap or rodent bait station. The Fast Catch station is available in two different models, the first is a station-only design and the second is our "Rodent Alert" design. This Patent Pending design features a "pop up" alert that will notify you that the snap trap has been triggered.
Copyright 2010-2017. Syarikat Perniagaan M.S. (Malaysia) Sdn. Bhd. (57718-M) All Rights Reserved.