​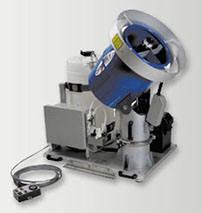 The world's most technologically advanced ULV applicator. Electric powered ULV generator. Digitally controlled high speed rotary atomizer produces the industry's most consistently sized spray droplets not achievable by conventional nozzles. It features a unique remote controlled tilting head that allows for multi positioning of the spray. The lightweight, aluminum and stainless steel construction provides years of low maintenance and trouble free use. Because the Dyna- Jet® operates entirely on electric power, the unit is not susceptible to weight issues and maintenance expenses normally associated with gasoline powered equipment.
High-volume axial blower 1,350 Cu. Ft./Min. (38.3 Cu. M/Min) provides an extra large swath width ensuring complete coverage
15-gallon (57 liter) lockable formulation tank. Translucent design allows for quick level viewing
Large capacity formulation filter
Water-resistant electronics enclosure features automatic calibration switch
Super-accurate FMI pumping system features a lockable cover and Curtis Dyna-Fog's exclusive Formulation Anti-Pulsing System (FAPS™)
Remote-control features: Tilt angle adjustment, machine on/off, spray on/off, formulation/flush selector, battery/hour meter (Backlit for night operation)
Quick release stainless steel vehicle mounting brackets
High Speed Rotary Atomizer ensures 90% of the droplets produced will be below 20 micros at approved formulated label rates
Patented articulating spray head powered via remote control
Water-resistant battery enclosure features chemical resistant stainless steel restraints
180º Rotational support (manually operated)
Light weight, 105 lbs. (47.6 kg)
High-strength anodized aluminum frame and stainless steel base construction. Chemical- resistant powder coated surfaces keeps the machine looking like new
Anti-vibration mounting feet
Dyna-Jet L30 has been found to comply with the performance guidelines of the World Health Organization Specification number WHO/CDS/NTD/WHOPES/GCDPP/2006.5.
Dyna-Trax - Spray recording and Vehicle Monitoring System
​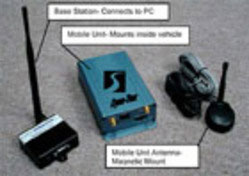 Curtis Dyna-Fog has partnered with the GPS leader to give you Dyna-Trax, the highest performing, most affordable GPS system on the market. Dyna-Trax offers the most affordable solution and the latest in wireless GPS Technology for the professional applicator industry. Everything is included in one complete package to get you instantly up and running. Compatible with most other 12 Volt DC spraying and fogging machines on the market.
​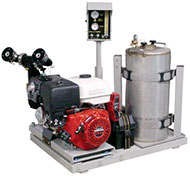 Powered by your choice of a 9 or 11HP heavy duty OHV engine, the Typhoon 2P offers the features and quality components that have made DYNA-FOG equipment the industry standard for Professional Mosquito Control. The full featured control panel with Stainless Steel Flow Meter can be mounted within operators reach to monitor formulation flow tank pressure and spray on/off. A night light makes viewing the control panel easy at any time. The large capacity stainless steel formulation tank provides safe and dependable containment of chemical.
​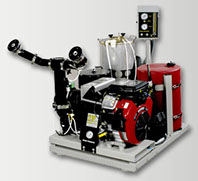 The Maxi-Pro 2P version of Dyna-Fog's vehicle mounted sprayers features the 18 HP Briggs engine, 300 CFM (8.5 cu. m./min.) Roots Blower, high output pumping system and full function remote controlled boom for mosquito Barrier Spraying, Larvaciding, Adulticiding and other possible agricultural uses. The directional boom controlled from the cab makes for easy use in any situation.
​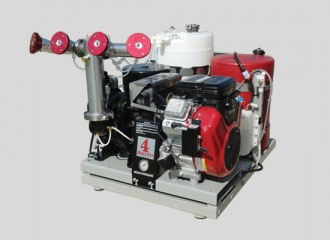 This fully equipped Maxi-Pro 4 represents Dyna-Fog's top of the line in ULV Chemical Aerosol Applicators. An 18 HP Briggs 2 Engine, 300 CFM (8.5 cu.m./min) Roots Blower, 4 high efficiency ULV nozzles and a multitude of pumping system features makes the Maxi-Pro 4 the most widely approved machine for use by Health Ministries and other mosquitoes control professionals throughout the world. Maxi-Pro 4 has been found to comply with the performance guidelines of the World Health Organization Specification number WHO/CDS/NTD/WHOPES/GCDPP/2006.5.
Radar Syncroflow
​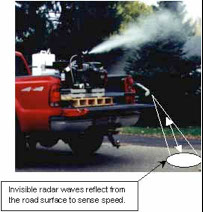 At last... automatic flow control without any wire connections to the vehicle! Our most popular truck mount accessory. For years Curtis Dyna-Fog has been offering the Syncroflow automatic flow control system. Now, the same proven technology can be used easier than ever before. By using a Radar sensor, a signal is sent from the sensor to the road surface and reflected back. As vehicle speed increases, so does the speed of reflected signal. Using the sprayers own electronics, this signal is converted to electrical pulses that control the formulation pump speed without connecting any wires to the vehicle or speedometer system! By simply actuating a toggle switch from Syncroflow to Manual mode, the Syncroflow System can be turned off and flow is then controlled manually by adjusting pump output. When in the Syncroflow mode, flow is correlated to vary proportionately with vehicle speeds from 5 to 20 MPH (8-32 km/hr). When the Syncroflow System is switched ON, electronic pulses are fed from the radar sensor to the formulation pump. As the vehicle moves faster or slower these pulses increase or decrease in frequency which in turn cause the formulation pump output to proportionately increase or decrease the fluid flow.
​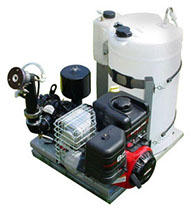 High power with maximum efficiency. Simple to operate, up, transport and store. Dispenses fungicides, insecticides, germicides, disinfectants, odor control and other chemical products. Engineered and developed with the professional in mind, it's ideal for cattle barns, food processing plants, warehouses, barracks, shopping ventures, schools, restaurant, apartments buildings, grain mills, factories and more.
​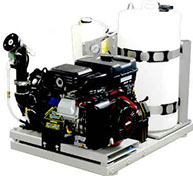 Your choice of three advanced, high performance pumping systems makes the Typhoon I an outstanding value. User friendly and ease of operation clearly defines the technology that only Curtis Dyna-Fog, with more than thirty years of experience, can produce. Powered by a rugged Overhead Valve engine mounted onto a powder coated, welded steel frame, the Typhoon 1 is available with a choice of three different pumping systems (Diaphragm, Digital Gear or FMI Piston) and a variety of options tailored to fit your needs. The highly efficient "Multi-Mist" nozzle has years of proven experience in producing uniform droplet spectrums with more than 90% of droplets below 20 microns (VMD) at the recommended flow rates and pressures. With flow rate capabilities ranging from 0-128 oz/min (0-3.8 ltrs/min) using the diaphragm pumping system, higher flow rates and larger droplets can be achieved making the machine also ideal for barrier spraying and larvacide work. When paired with GPS systems like Dyna-Trax 2 and a GPS mapping software provider, the Typhoon 1 has full recording and reporting capability to assist in complying with EPA and/or other agency reporting requirements. Typhoon I has been declaration of conformity with the performance guidelines of the World Health Organization Specification number WHO/VBC/89.973.
​
The Typhoon II features an 11 HP OHV Honda engine and the FMI pumping system for the ultimate in reliability and performance. Two high efficiency ULV nozzles and a 200 CFM (5.6 cu.m./min.) Roots blower enable accurate creation of droplet sizes.
​
The Maxi-Pro 145 is the single nozzle version of the well established high powered 18hp Maxi-Pro 4. Built from only the highest quality materials, this unit will give reliable usage with the very minimum of maintenance.
​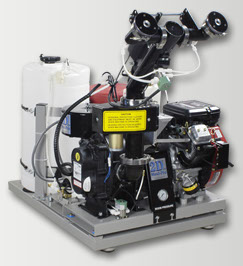 ULV Aerosol Applicator High Performance & Reliability – More than 30 years of field performance. Patented Remote Controllable Nozzle Boom. The Maxi-Pro 2D is loaded with features required for Vector Control by Health Ministries worldwide. Representing the base model of the Maxi-Pro line, the 2D was created out of the need for a professional grade vehicle mounted ULV sprayer with simplistic operation.
​
Low-volume spraying is the heart of effective, efficient and economical pest control in the Ag Industry. Studies have proven low volume control of pests to be a viable, effective option that is widely accepted and used around the world.
Reduce application costs
Best coverage per acre
Low volume spraying
Break the life cycle
Optional 100 or 150 gallon formulation tank mounted on a welded steel frame with agitation pump, and high intensity LED work light
Break the life cycle of many pests using Low Volume spraying. We have gone to great lengths to be a part of studies and provide a solution that is economical, practical and effective. When it comes down to it, the LV-8 has the best coverage per area, the most versatile use and is a grower's final solution to controlling the common pests. Reduce application costs and effectively apply foliar systemics, oils, nutritionals and insecticides from ONE machine. Optional 100 or 150 gallon formulation tank mounted on a welded steel frame with agitation pump, and high intensity LED work light.